"Permission Denied" and "403 Forbidden" errors are usually caused when your website's folder has incorrect file permissions. In other words, it happens when your Apache web server doesn't have permission to access your website's files.
To help diagnose these problems, VirtualHostX 4.0 and above comes with a tool we call the "Permissions Doctor". It will take a look at your website's directory (and all of its parent directories) and tell you if any of them look incorrect along with the appropriate terminal command to fix it. To run the Permissions Doctor, make sure your virtual host is selected and then choose "Check Folder Permissions..." from the "Virtual Host" menu.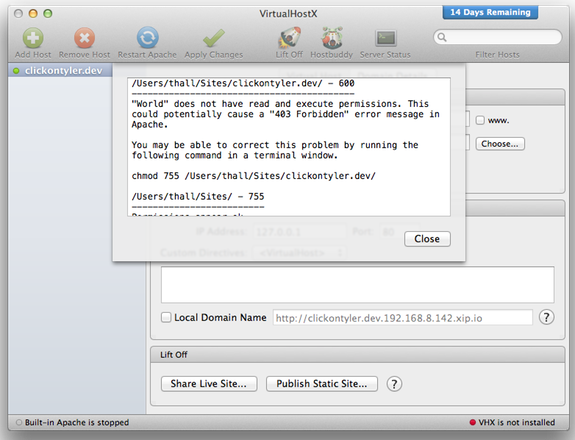 If you're on Mac OS X 10.10 Yosemite and changing your file permissions doesn't fix the problem, you can try adding the following directive to your virtual hosts's "Directory Custom Directives"...
Require all granted

Be sure to click "Apply Changes" and restart Apache after adding that.